I was going to try for a 7 Quick Takes Friday but I felt really awful last Friday. And now I'm too tired to put a post on one subject together so you just get randomness.
In case you were wondering, the kitchen is pretty much on hold. Craig has been spending his evenings doing dishes, cooking, laundry, etc while I'm in bed as soon as we get Lucy down. But at 4pm the last weekday we were in town before leaving for my dad's, we got the final inspector to come in and pass us. So we are legal and its actually in pretty decent working condition. Craig was able to work on venting the hood during nap times last weekend and the backplash materials I ordered just arrived but since that is one of my pet projects, I really want to be involved with it and since it isn't necessary to function, it can wait for a month or two. The only other things left are the trip to Ikea (also waiting for me to improve) so we can put the missing drawer fronts on and switch out the random piece of melamine we are using as a temporary island counter for actual butcher block plus final touches like curtain, blinds, stools, etc.
You may have noticed that I said "we" are putting Lucy to bed. Lucy has always been a mama's girl. Craig always been a very involved dad but these days we are pushing that farther, both from necessity and because I figure we have about 7 months to make her a daddy's girl. It seems to be working. She wants him to sing to her at night and not me and they have been going on lots of fun trips to exotic places like the library and the grocery store. She still has her fair share of banging on the bedroom door shouting mama (which she says with the accent on the second syllable, it sounds french and is completely adorable) but instead of getting really upset, she normally gives up after a few minutes and leaves in search of dad.
Daddy time is really helping me out because Lucy is wearing me out. Partly because I'm tired and sick. Partly because we are having some discipline issues lately which would exhaust even the regular put together mom I used to be. And partly because I've been in entertaining mode. Entertaining a toddler is a lot of work and I'm not used to it. Normally, I just do my day and she tags along: I do the dishes, she helps put things away or wipes the table or spins in a circle next to the table. I go downstairs to do the laundry, she helps me shove wet clothes into the dryer and gets to push the button or she might go off searching for dead bugs. Then I do my bible study while she sits next to me with her bible and "makes notes" in her notebook. We do play and read together but its only a portion of our day. Not anymore, if I want her to stay in bed with me, I've got to work at it. And it is hard work. Every once in a while I can get her going with a toy (normally her Duplos) next to me but one her own so I can sleep but she seems to sense when I stop paying attention and suddenly she "needs" me to make her a house for her giraffe or to separate two blocks that are stuck. I've heard some moms say that they don' t know how to do dishes, laundry, etc with their young kid around. But now I want to ask them how they manage to get through the day without having chores to break it up.
I've been having some good days lately so even though my evenings are still rough, I do have hope that it shouldn't be that much longer. The physical isn't that bad but the mental parts are really getting to me. Like I really want to go to church. I haven't managed to make it in over a month, although Craig and Lucy have, and I miss it. I miss the fellowship, I miss the chance to get out of the house, I miss the worship. And honestly, I feel like a lazy bum for not going to church.
But we are going to our first midwife appointment on Friday and should get to hear the heartbeat so that will probably really improve my attitude. I know its a real baby that we have prayed and hoped for and already love but it is still hard to imagine. But that heartbeat makes it so much more real.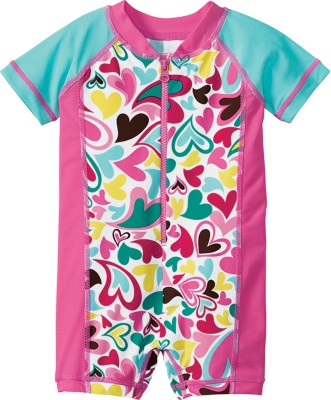 On another happy note, I bought Lucy's swim suit last night. Hanna Andersson had a BOGO 50% off sale and I had been eyeing this adorable baby swim romper for a while. I love Hanna Andersson clothes. I normally search for it on ebay but I thought the swim suit was a pretty fair price and hopefully she can get two summers out of it (She is really in a 80 but has 90 pajamas that work so I went with a 90). I have to say that I am pleasantly surprised with the number of modest little girl swim suits I've been seeing this spring. I really thought I would struggle to find things with sleeves but their little and big girl separates are cute too and you could easily put a modest set together. And I've seen similar things at several stores, including Target. Of course, there are plenty on the opposite side of the spectrum (like this and this) but I'd rather just pretend those don't exist.